Many times it happens that while reading about the culture of a company we expect that it will go on and on about the ethos, values or guidelines followed by the company. Well, this is going to be different. As I write this, I sit on the balcony of our office where we have a bouldering wall. Crazy, isn't it? I know. But here at Hureo UX Research Company, this is how we work. Wherever we are productive, where we can get work done, where we can deliver. May it be to write a blog, analyzing or planning for a research or while doing usability testing for mobile applications. We focus on getting work done in the most efficient and effective way.
At Hureo we believe that productivity does not come from sitting behind a desk and mindlessly staring at our screens. For us, productivity comes from banter during coffee breaks on topics like street food around India, where we could go for a vacation, cities and places to explore and even good dabeli places around. We take round trips around the world during lunch and make endless plans which have been cancelled for many different reasons and the major one being covid. But this does not stop us from moving forward, from working and especially motivating each other in these testing times.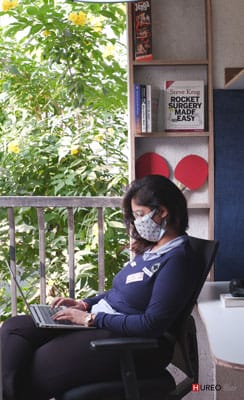 writing this blog from our office balcony, designed by Architect Ashish Singh, built by Studio ASA
Our team comes together from different cultures, backgrounds and is a multilingual team. This helps us conduct research in many languages and help reach out the voice of users to our clients. As I speak about my team, that answers the question I asked myself while writing this piece; 'What makes Hureo's culture?'. To answer this question, let me give you a little behind the scenes of our team. We are a close knit team that come from different backgrounds. We have our Founder, Anjeli, who is the base of our company, who provides the team with insights, nourishment and helps us grow with the experience she holds. Anjeli through her experience also enables various companies, from start-ups to enterprises, to focus on their users and build user-centric products. Anjeli regularly vocalises her thoughts and hosts discussions and meets to spread awareness and bring the voice of the users in building products, like she did during our Hureo Social Event.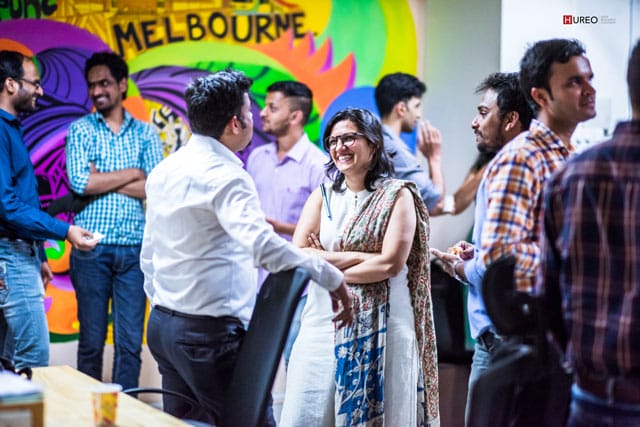 Hureo Social Event, 2018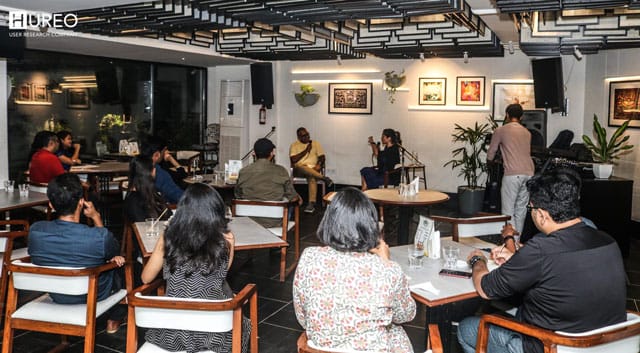 Anjeli in conversation with Ripul Kumar during Hureo Social, 2019
Our partner at Hureo; Jahnavi, who is the backbone of our company. She brings to the table her amazing management skills, leading our researchers, always helping the team to work better and not forgetting her amazing baking skills, which also brings to the table her culinary treats. Our team puts in their continuous efforts and work, which helps us to provide the service and outcomes we promise our clients. There is an essence of energy and freshness to the team and we encourage each other to enjoy the little joys in life. Our team is focused on collaboration where we can showcase Hureo and the hard work put in by different members of our team in its true form. In our team, we focus on lifting spirits and pushing each other to that extra mile to finish our work, just like my team got me to write this blog for you. Our love for music and the joy we get in doing our work has helped us bring life to ideas that we have had. And lastly, answering a very simple, yet important question; 'What makes Hureo's Culture'?.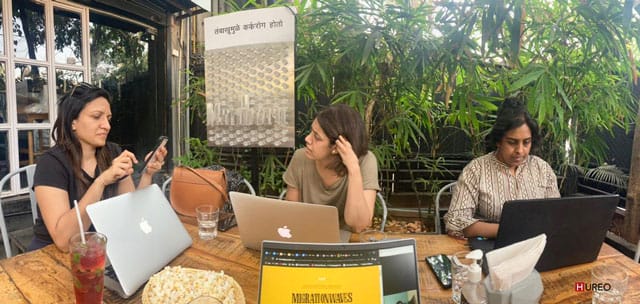 Getting work done from Elephant, Pune – to get our creative motors running
To conclude this blog, Hureo's culture is more than a 9-5. It involves brainstorming, problem solving, getting creative and letting ideas flow. We work with different teams on different tasks to get to one goal, which is growth. Growth for ourselves, our team and for the company as a whole. Hureo's culture is Hureo's people. It is what brings us together, what helps us thrive and most importantly, what makes us who we are and that is the beauty behind it.
We are always in search of more like minded people, if our culture attracts you, then head to our career page for more opportunities. We would like to have you as part of our amazing team!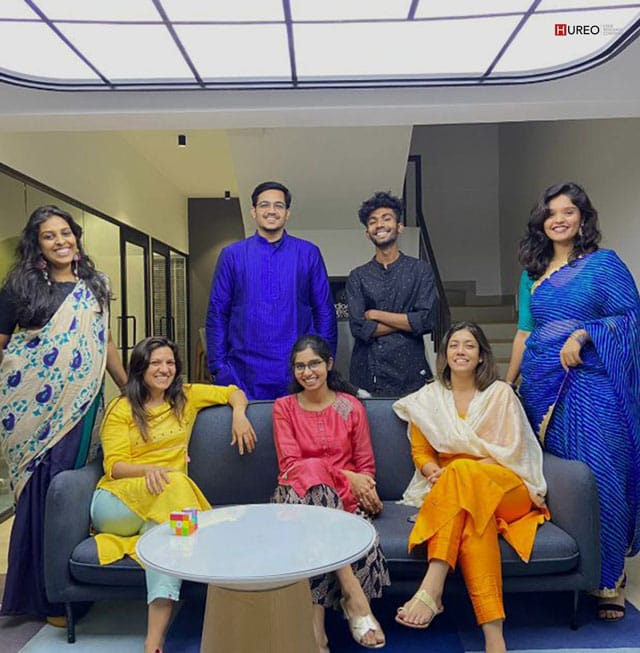 Diwali Celebration at our office, Designed by Ashish Singh, built by Studio ASA