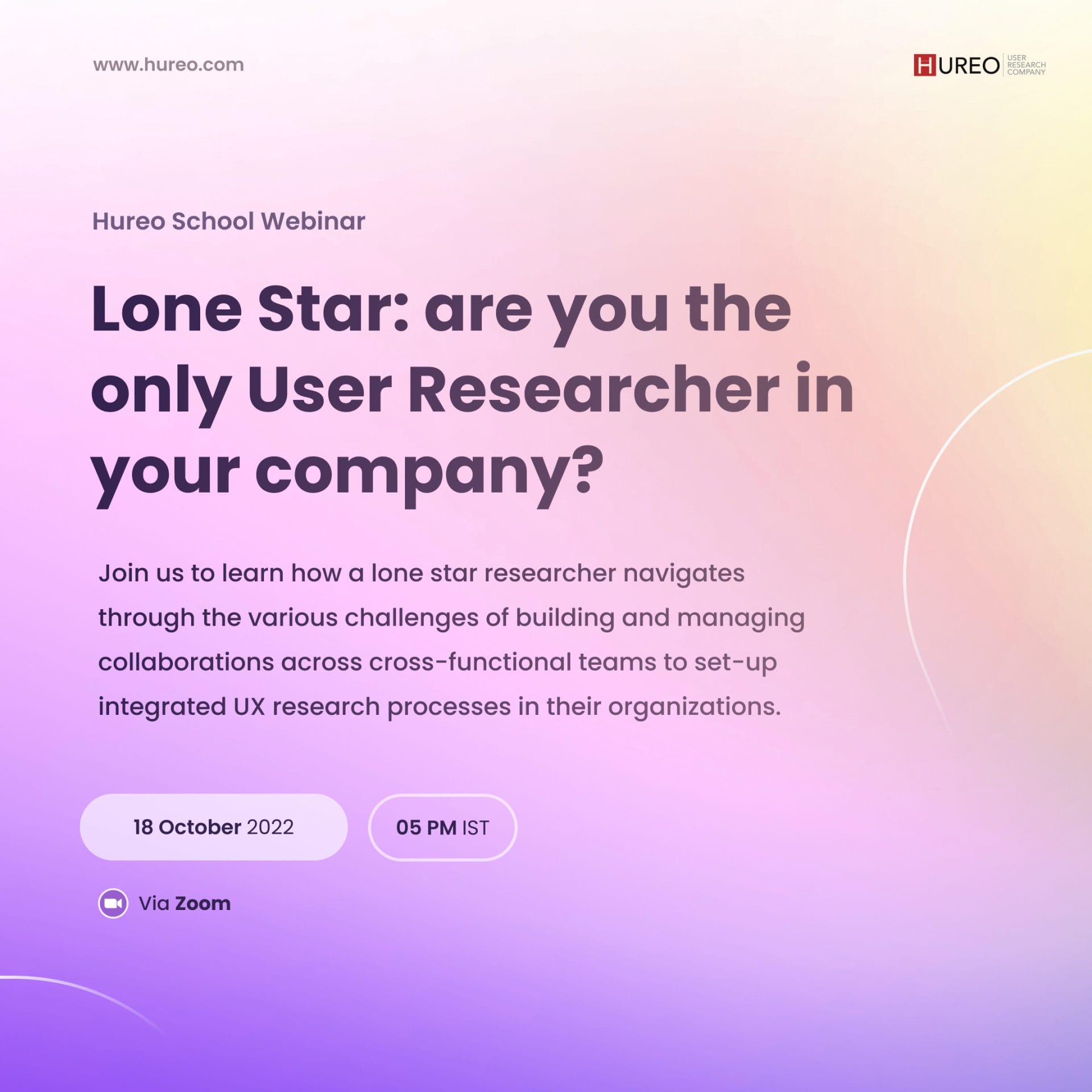 Lone star: Are you the only User Researcher in your company?
Are you the only User Researcher in your company? Do you find it hard to collaborate across teams? Then this webinar is for you!
A lone User Researcher finds themselves in a very critical decision-making hierarchy, yet a lack of peers or mentors can make the researcher feel directionless. Join us in this Hureo Social Webinar to discuss how to navigate through the different stakeholders a User Researcher interacts with, how to build connections with your team of Designers, Project Managers, and better integrate yourself within the company structure while solving some of the most pressing problems of our times.
24 people registered for this webinar.

To be announced soon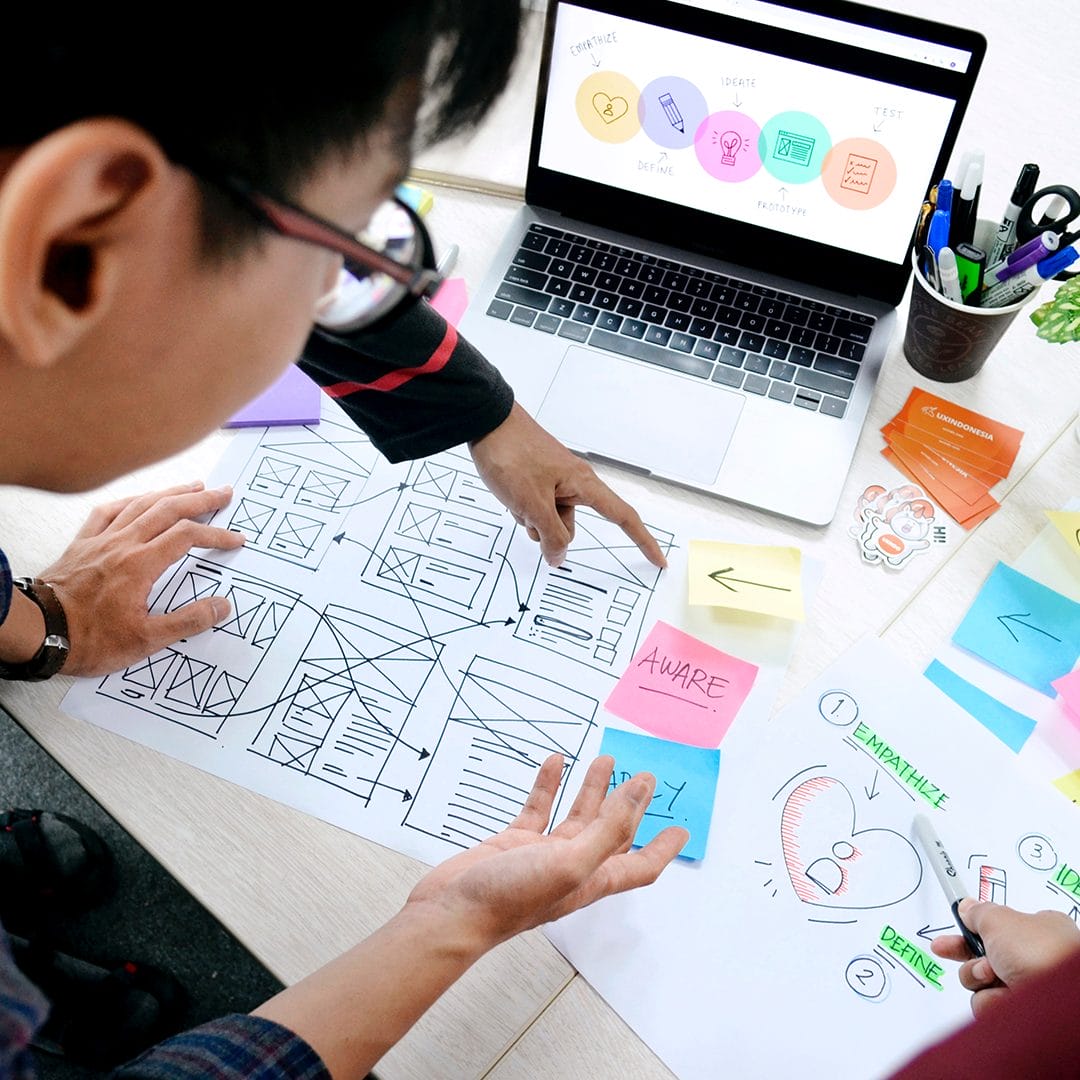 How to build a career in User Research?
Thinking about a career in User Research, but don't know where to start?
Come, join us as our speakers walk you through the different pathways and roles within UX research, the necessary skill sets, and right attitudes to make it click in the field, what the job market forecast looks like for User Research, and for some great Q&As from inquisitive learners like you!

To be announced soon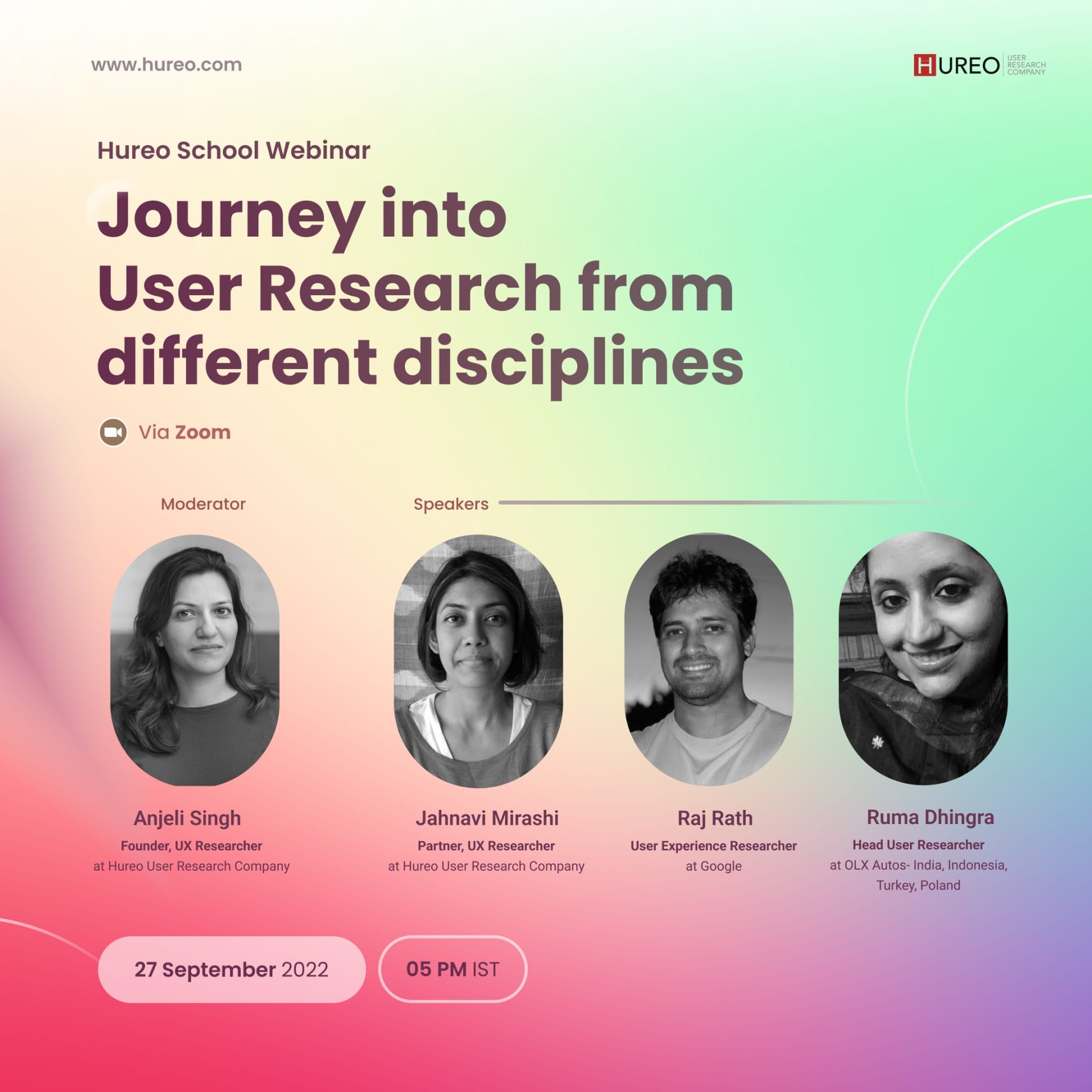 27th September 2022, 5 PM IST
Journey into User Research from Different Disciplines
User Research is a unique field that has welcomed people from different walks of life, at different stages of their careers and from a variety of disciplines, into its fold. However, for new entrants fascinated with the prospects of getting an entry into the field, it is often a daunting experience. This is due to the field constantly evolving, its definitions broadening and a plethora of boot camps and courses that have come up that can leave an individual confused. In the first part of our webinar series, we share our researchers' personal forays into User Research from Cognitive Sciences, Anthropology, and HCI, the transferable skills they brought from their respective fields, the new challenges they overcame while entering User Research and how to build a solid foundation in User Research.
171 people registered for this webinar.

Anjeli Singh
Founder, UX Researcher
Hureo User Research Company, India

Jahnavi Mirashi
Partner, UX Researcher
Hureo User Research Company, India

Raj Rath
User Experience Researcher
Google

Ruma Dhingra
Head User Researcher
OLX Autos- India, Indonesia, Turkey, Poland