Identifying KaiOS users in India who read on their phone and evaluate their expereinces
Question
Who are the Indian users reading Wikipedia on KaiOS phones – and how can we improve their user experience?
Outcome
Identified Users:

Identified KaiOS users and created personas based on their motivations, behavior, challenges, and desires 

Explored Relationship with KaiOS phones:

Uncovered detailed insights on users' online behavior and their relationship with the phone. 

Identified User Insights:

Provided user insights to improve user experience of Wikipedia on JioPhones

Provided Recommendations:

Provided recommendations to help the client make informed decisions while building solutions for the users. 
Wikimedia Foundation approached Hureo with the following brief – their data had revealed that there were users in India who are accessing Wikipedia through the KaiOS mobile operating system. Wikipedia was eager to learn more about these users and explore how they could serve them better. 
Our first task was to zero in on a phone that uses the KaiOS system – we decided to talk to people reading content on Jio smart feature phone—JioPhone 1 and JioPhone 2. 
We then identified our broad research goals, which were as follows:
Who are these users? 

What is their

motivation

to use a JioPhone?

What for, and how, are they using their JioPhone (internet, apps, features, tools)?

  

What is their

Wikipedia awareness

and usage?
Approach
Observations: During the study, we interviewed the users, and observed their JioPhone usage. We also assigned reading-based tasks to the users, in order to understand how they consume information on Wikipedia, and how they browse online.
Conducting studies in different locations allowed us to observe and identify common patterns between users who spoke different languages and came from different cultures and environments. This also helped shed light on existing language barriers in their phone and online experience.
Location and method: To ensure a representative sample, we conducted the study in multiple cities in India across Delhi, Mumbai, and Pune, in the form of in-person lab interviews and observation at our mobile labs in each of these cities. 
Users: All the users were JioPhone users with different levels of awareness about Wikipedia: some were Wikipedia readers, some had a basic awareness of it, while some were completely unaware.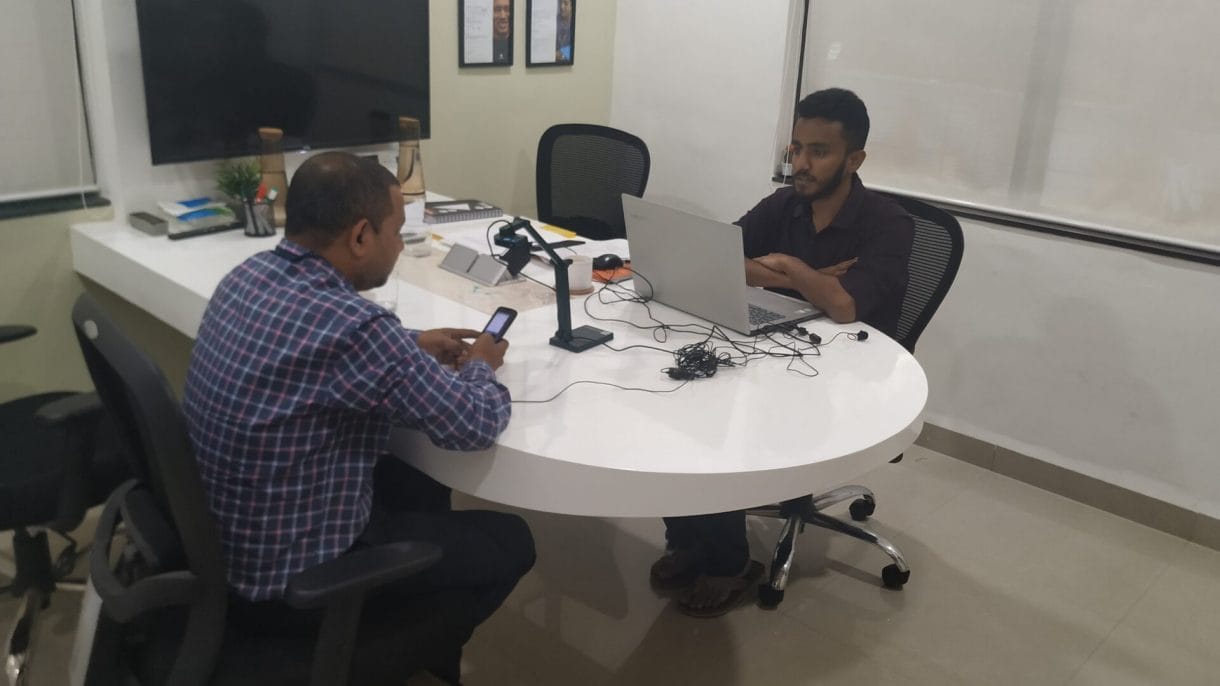 Glimpses of our in-depth session conducted across Pune, Mumbai (mobile lab) and Delhi (mobile lab)
Outcome
User reading Wikipedia articles in different languages during the session
Our in-depth sessions enabled the client to rethink the Wikipedia experience on KaiOS phones.
The outcome of the study was as follows:
Identified KaiOS users and created Personas
The research identified personas, based on demographic, Jio Phone usage, motivation and usage pattern. These personas include a parent, who uses their phone to help children with their homework, a student, who uses their phone to look for information, a user looking for content in regional languages, and a casual browser.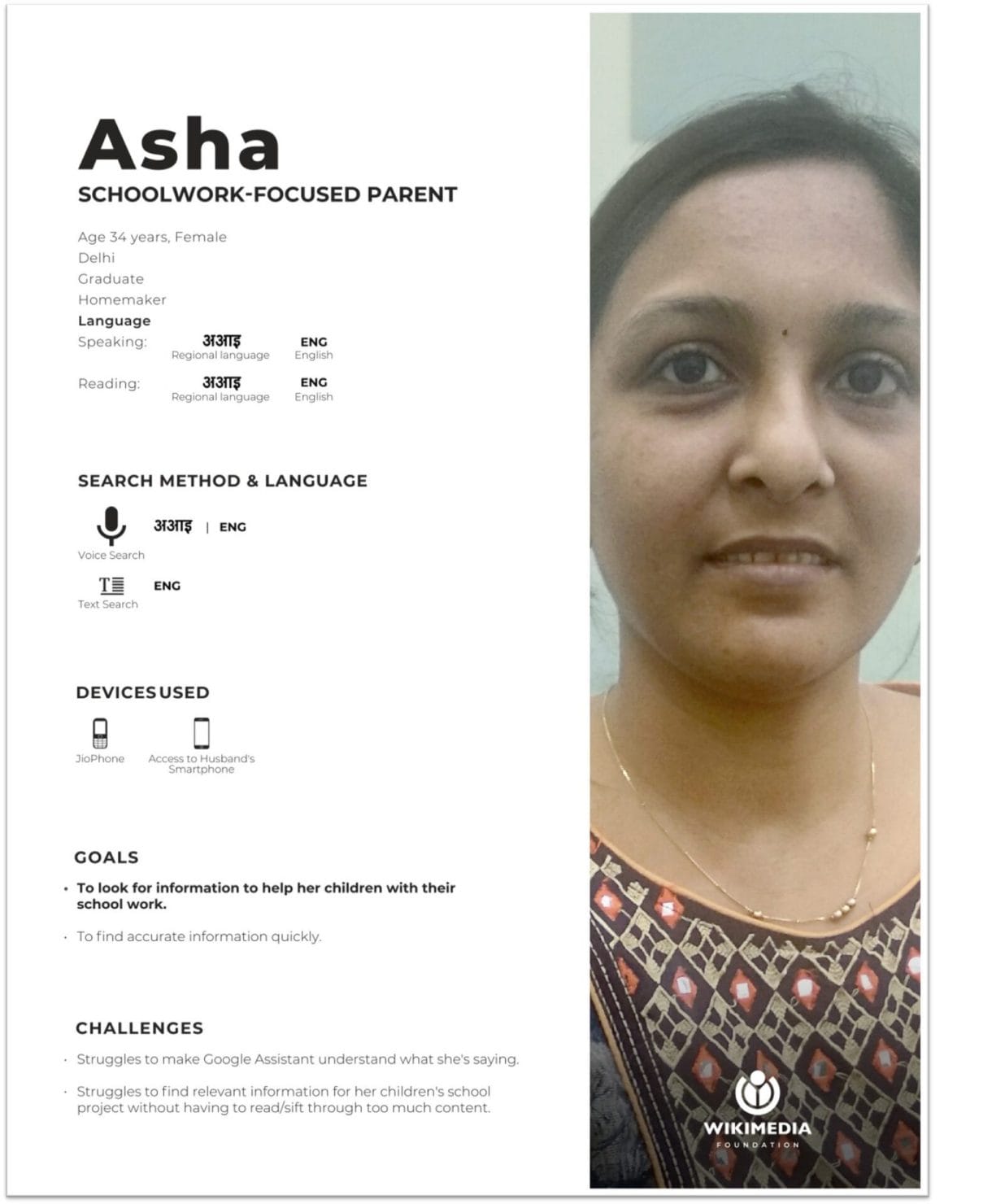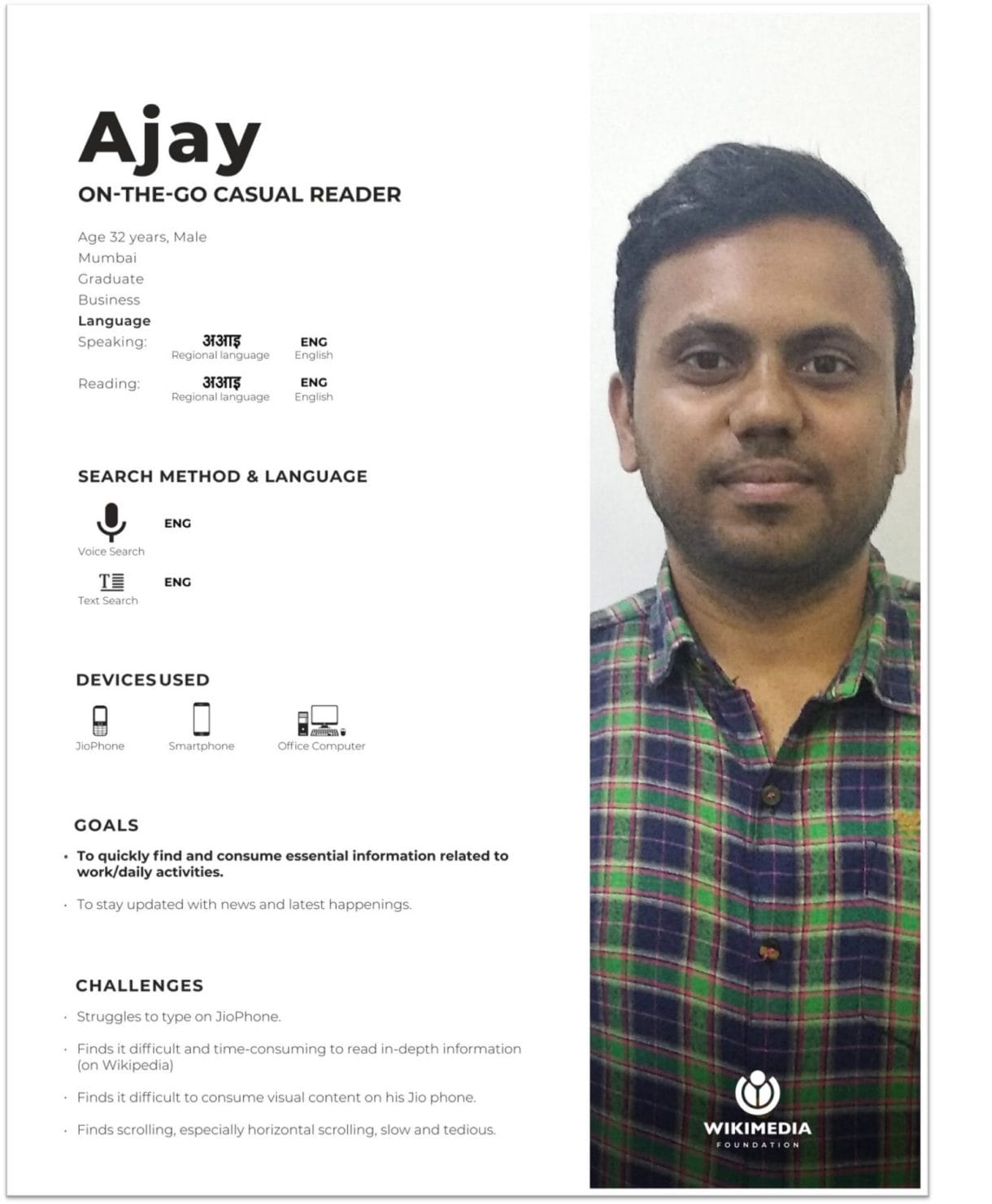 An example of the personas that were an outcome of our study
Uncovered detailed insights on users' online and phone behaviour:
The study revealed how a JioPhone user uses various features of the phone, apps and browsing on their  phone. 
Usage of Apps:

Almost all users were using the internet to access social media apps (Facebook & Whatsapp), entertainment apps (YouTube, JioTV, JioSaavn, Hotstar etc) and to search for news and required information online via Google Assistant and Browser. 

Preferred Internet:

JioPhone users (even who have smartphones) primarily preferred using the internet on a JioPhone because it consumes less data and has good internet speed.

Reading and Searching Behaviour:

Users reading behaviour on the JioPhone varied according to their needs, interest and situation.

Voice-based Search over Typing:

While browsing for information, KaiOS users largely rely on voice-based search as opposed to text search, since they find the phone keypad cumbersome to use.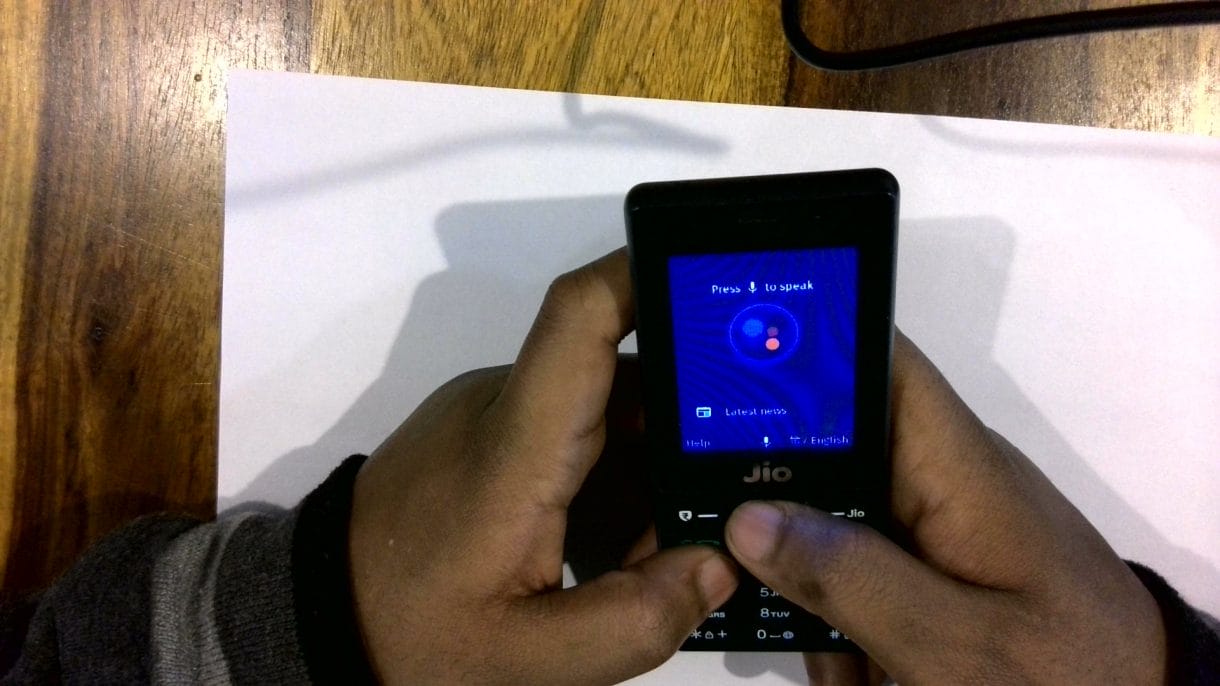 User using voice-search app to look for content 
Provided user feedback to improve overall user experience of Wikipedia on JioPhones: 
The study identified challenges that were deterring users from consuming Wikipedia on their phones. The relatively small screen size of the JioPhone (as compared to smartphone screens) discourages users from reading large chunks of text and longer articles–and long-form text happens to be an important component of Wikipedia. Users are also facing other challenges related to readability of the text, including font size, inability to scroll through text quickly, and poor image quality.
Provided recommendations to help the client make more informed decisions while building a KaiOS-specific solution
All insights and recommendations derived from this study were collated into a comprehensive report and presented to the Wikimedia team, to help them formulate a better strategy to improve user experience. Using this report as a framework,  the client is now developing a solution meant exclusively for the KaiOS platform, addressing the outlined challenges and needs of the users.
---